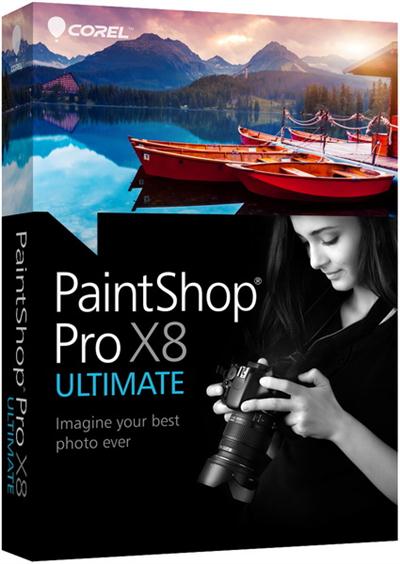 Corel PaintShop Pro X8 Ultimate 18.0.0.124 Special Edition + Ultimate Content | 243,86 / 290 / 515 Mb
Get everything you need to take your photos to bold new levels with our best-ever collection of premium photo software. Start with the versatile image editing and compositing of PaintShop Pro X8, then transform your photos with the hundreds of presets and customizable filters in on1 Perfect Effects 9.5. Process and manage RAW and JPEG photos faster than ever with Corel AfterShot 2. Restore color and detail in one click with the now faster Perfectly Clear 2 SE. Its everything you need, for everything you want to do with your photos Corel PaintShop Pro X8 Ultimate.
Custom creative effects
They're your photos. Get your look. on1 Perfect Effects 9.5 empowers you to make photos with impact with an extensive library of customizable photo filters and built-in presets. Experiment and easily stack filters for a one-of-a-kind effect.
Faster photo processing
Make everything after the shoot faster, with AfterShot 2. Manage large photo collections. Quickly enhance RAW files to reveal the true detail, color and beauty of your photos. Experiment freely and always protect your originals with the non-destructive editing.
One-click photo corrections
Automatically restore detail and colors lost by your camera's sensor with the new Perfectly Clear 2 SE by Athentech Imaging. Save time with the intelligent, automatic corrections. Fix exposure and contrast, remove noise and much more with 15 patented corrections.
Opportunities Corel PaintShop Pro X8:
Running text. This tool allows you to instantly fill the selection vector or text object, which automatically takes the specified form. Create interesting design elements for web graphics, posters, photo albums in the style of scrapbooking, brochures, collages, and other projects.
Magic Move. "Magic Move" allows you to speed up the editing process. When you move an object in the image, this new content-sensitive tool automatically fills in voids formed by the background texture. You simply drag the selected area to a new location, and the remaining empty area will automatically be filled with a suitable background from the surrounding area.
The batch mode. Updated batch mode allows you to quickly solve the problem change the size of pictures and watermarking, as well as gives the opportunity to work with macros. It offers such safety features as deleting the data file and add a watermark in the output data.
Improved accuracy when making selections. Accurate tools create selections are an indispensable piece of software for editing photos. PaintShop Pro X8 allows you to specify the size of the selection by introducing the values of height and width. Alternatively, for the selection pane, you can specify a fixed ratio of sides.
Lens correction. Now in the workspace edits in the camera RAW Lab automatically applies the tools lens correction to fix distortion, chromatic aberration, and vignetting, which are often found when dealing with the majority of photos lenses.
Support for 4K monitors. The combination of new photo editor with a high-resolution monitor will highlight every detail and reveal the true beauty of your photos. New icons and improved interface compatible with Ultra HD displays (increase to 250% of 4K).
More effective brush. By improving performance for 40 - 120% many brushes now offer increased efficiency and sensitivity. In addition, the new maximum size of the brush (3000 pixels) allows you to quickly cover a large area.art edge. This feature works with other tools and does not allow the brushstrokes go outside the boundaries of a certain area.
Optimized layers. Absolutely indispensable in-depth photo editing, creating composite images and the development of graphic design, layers become even simpler and easier to use. It offers quick navigation layer by name, merge selected layers and easy to expand and collapse groups of layers.
Tools trim shape and text. Tools Tool "crop shape" and "cropping Tool text" allows to instantly create photo objects, where the text and form are used to trim the underlying image. The resulting object, you can paste or drag a different image as a new layer. New preview of the cropping tool provides a view of the field even before the application of the cut.
Camera RAW lab. Camera RAW lab offers the types of images "Before" and "After" and a close-up preview window for a more comfortable experience. As usual, PaintShop Pro continues to add support for new camera models.
Built-in tutorials. The award-winning learning Center (Learning Center) you will find valuable tips and hints that will help you better organize your workflow. It is an integrated reference guide offers step by step instructions and quick access to the right tools that will help you master new techniques and learn to use your software in the most efficient manner.
The effect of "Graduated filter". Numerous interactive controls allow you to quickly simulate the effect of using a graduated filter when shooting.
Gradients. Now in the "material Properties" in real-time to view the transformation of the gradient in the image.
Expedited preservation. Our own file format images (*.pspimage) provides acceleration up to 50% while saving data.
The Tool "Fill Magic". By using the tool "Fill Magic" you can remove unwanted parts of the image and fill them with a suitable background from the surrounding area, even if the background area is textured and uneven. This content-sensitive feature works with your favorite selection tools.
Photos and graphics for publication on the Internet. Use your photo editor to create impressive images the right size for e-Commerce sites, blogs and websites. With a full set of tools for editing web graphics you can save templates, quickly add the brand etc.
The tools of drawing and painting. Breathe life into your artwork! You have the opportunity to enjoy a wide range of built-in brushes ("Airbrush", "paint Brush", "Fill" and "Change colors"), or import Adobe Photoshop brushes. Tools for creating vector illustrations allow you to use the preset forms and feathers, and place the text along the path.
Map photos. Track where and when the photos were taken using cartographical reference pictures, using GPS data and geo-mark Facebook. Map mode is integrated with Google Maps Maps and allows you to place photos on a map, and view and organize a collection of images by location.
The function "Share my trip". Use this tool to create a slideshow where the pictures and comments are tied to locations on an interactive map. Save your map as a slideshow or put it directly in your account on the websites Dropbox and Facebook.
Publish content on social networks. Stay connected with friends and family! Share your photos and photo projects on the pages of Facebook, Flickr and Google+ using built-in functions PaintShop Pro X8 for working with social networks.
Educational video tutorials. Built-in Discovery Center will help you to find the information you need. The library contains useful and interesting tutorials, which will help in mastering the necessary skills and improving your skill.
Powerful processing system macros. Expedite the performance of routine and repetitive tasks. Now with a new full-featured processing system macros and updated guidance (the Scripting Guide), you can automate almost any team in the application.
Support for third party plug-ins. Support tools 64-bit third-party plug-ins and enhanced support for Adobe Photoshop plugins open up users a wide creative possibilities.
The tool "Extract objects". A tool for extracting objects facilitates the removal of objects from images is very large due to its high performance 64-bit architecture. This tool can be used to perform tasks such as deleting an object from the original background or copying and pasting the extracted object in a new image.
Retouching portrait pictures. Make sure that the people in your photos look the best way. This will help tools "Removing red eye" and "Cosmetics" that are designed to smooth wrinkles, whiten teeth and remove skin imperfections.


Expanded support for file formats. PaintShop Pro supports all popular raster and vector file formats, including .psd Adobe Photoshop. You can import images from your camera, scanner, the web or other photo editor. A wide range of formats in which you can save files, greatly increases the availability of photos.

Comprehensive step by step process of editing. Each tab of the workspace contains tools for the appropriate stage of processing. Management - to view, tag and organize photos. Setting is for cropping, alignment and the use of photo corrections. Edit - to make fine adjustments, create compositions and Refine images using the tools of graphic design.

Retro effect. Original effects to give photos vintage by changing the color and contrast. You will appreciate the instant effects in the spirit of old cameras.

Instant effects. Use interesting artistic effects to your photos in just a few seconds. It offers a set of ready-made effects, which is divided into categories - artistic, black and white, landscape and film styles. Each of the effects presented a clear sketch.

The effect of Selective focus. "Selective focus" gives the opportunity to simulate the effect of using expensive lenses with tilt and shift. With the help of this function you can also add the effect of depth of field, drawing attention to key areas of the picture by blurring distracting details.

Web-based tools. It offers a variety of versatile web tools to save and optimize images, which subsequently will be used online. Use the mapping feature images to link HTML with your graphics, and image slicing and rollovers to create designs for the web pages.

Restoration photos. Breathe new life into old family photos with powerful tools for image restoration. Tool "fading Correction" will help to restore the contrast and faded colors, and the "scratch Removal" - to smooth over the cracks and restore the torn areas in the pictures.

A variety of tools for working with text. Add text to any graphic project for printing or publishing on the Internet with a full set of printing tools. You can customize the font, size, style, alignment, line height and kerning.

Corel PaintShop Pro X8 has a higher performance, new tools that will help you to focus on creative projects, and improved functionality in key areas. As always, the cooperation with our users is an integral part of the process of developing a new version of this easy to use photo editor, trusted by both Amateurs and professional photographers.

New! Running text. This tool allows you to instantly fill the selection vector or text object, which automatically takes the specified form. Create interesting design elements for web graphics, posters, photo albums in the style of scrapbooking, brochures, collages, and other projects.
New! Magic Move. "Magic Move" allows you to speed up the editing process. When you move an object in the image, this new content-sensitive tool automatically fills in voids formed by the background texture. You simply drag the selected area to a new location, and the remaining empty area will automatically be filled with a suitable background from the surrounding area.
Improved! The batch mode. Updated batch mode allows you to quickly solve the problem change the size of pictures and watermarking, as well as gives the opportunity to work with macros. It offers such safety features as deleting the data file and add a watermark in the output data.
New! Improved accuracy when making selections. Accurate tools create selections are an indispensable piece of software for editing photos. PaintShop Pro X8 allows you to specify the size of the selection by introducing the values of height and width. Alternatively, for the selection pane, you can specify a fixed ratio of sides.
New! Lens correction. Now in the workspace edits in the camera RAW Lab automatically applies the tools lens correction to fix distortion, chromatic aberration, and vignetting, which are often found when dealing with the majority of photos lenses.
New! Support for 4K monitors. The combination of new photo editor with a high-resolution monitor will highlight every detail and reveal the true beauty of your photos. New icons and improved interface compatible with Ultra HD displays (increase to 250% of 4K).
New! More effective brush. By improving performance for 40 - 120% many brushes now offer increased efficiency and sensitivity. In addition, the new maximum size of the brush (3000 pixels) allows you to quickly cover a large area.
Improved! The "smart edge". Produced improving performance by up to 50% when using the smart edge. This feature works with other tools and does not allow the brushstrokes go outside the boundaries of a certain area.
New! Optimized layers. Absolutely indispensable in-depth photo editing, creating composite images and the development of graphic design, layers become even simpler and easier to use. It offers quick navigation layer by name, merge selected layers and easy to expand and collapse groups of layers.
Improved! Tools trim shape and text. Tools Tool "crop shape" and "cropping Tool text" allows to instantly create photo objects, where the text and form are used to trim the underlying image. The resulting object, you can paste or drag a different image as a new layer. New preview of the cropping tool provides a view of the field even before the application of the cut.
Improved! Camera RAW lab. Camera RAW lab offers the types of images "Before" and "After" and a close-up preview window for a more comfortable experience. As usual, PaintShop Pro continues to add support for new camera models.
Improved! Built-in tutorials. The award-winning learning Center (Learning Center) you will find valuable tips and hints that will help you better organize your workflow. It is an integrated reference guide offers step by step instructions and quick access to the right tools that will help you master new techniques and learn to use your software in the most efficient manner.
Improved! The effect of "Graduated filter". Numerous interactive controls allow you to quickly simulate the effect of using a graduated filter when shooting.
Improved! Gradients. Now in the "material Properties" in real-time to view the transformation of the gradient in the image.
Improved! Expedited preservation. Our own file format images (*.pspimage) provides acceleration up to 50% while saving data.

KPT Collection is a classic collection of 24 of plug-ins that will help you to create gorgeous and unique special effects. After downloading and installing the plugins, you can find them in Corel PaintShop Pro menu Plugins -> KPT Collection

Creative Content includes brushes, displacement maps, gradients, line styles, masks, photo frames, patterns, shapes and textures.

Ultimate Pack includes:

Perfectly Clear by Athentech Imaging a powerful plugin that allows you just a couple of mouse clicks to adjust the photos of perfect form in the automatic mode, and correct them manually.

Creative collection dozens of brushes, textures and over 100 backgrounds, an excellent solution for expanding creative possibilities. Only in Ultimate, this bonus pack gives you more ways to be more creative with your photos projects.

Features Special Edition:

Version created on the basis of the original purchased version. From the distribution nothing is deleted.
Included both versions: both 32-bit and 64-bit
Registration is not required in any of its manifestations. The key when you also do not need to enter.
Interface language: Russian, English, French, German, Spanish, Italian, Dutch, Japanese, Chinese. Language selection is automatic, according to the language of the OS itself, but You can choose the desired language or install a combination of two in the "Settings" tab during installation.
Installing the program occurs without unpack the distribution in one of the folders local drive "C".

Corel PaintShop Pro X8 Ultimate 18.0.0.124 Special Edition

Corel KPT Collection / Creative Content

Corel Ultimate Pack


كود:
http://rapidgator.net/file/cda101d034769ad6f596cdea85e2db4c/71bky.Corel.PaintShop.Pro.X8.rar.html