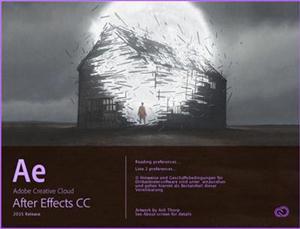 Adobe After Effects CC 2015.3 v13.8.0 | MacOSX | 2 GB
Create incredible motion graphics and visual effects. The industry-standard animation and creative compositing app lets you design and deliver professional motion graphics and visual effects for film, TV, video, and web.Bold new ways to put your ideas in motion. See how the latest release helps you go from initial concept to finished composition faster than ever.
- Smoother previews, accelerated rendering, faster interactions, and other performance improvements make this the most responsive After Effects yet.
- Bring 2D characters to life by acting out their movements in front of a webcam with Adobe Character Animator (Preview).
- Search and instantly access over a million pro-quality videos from Adobe Stock - right inside your Creative Cloud Libraries.
- Keep perfecting while you preview. Adjust a composition's properties and even resize panels without stopping playback.
From inspiration to final creation. Faster.
After Effects is part of Creative Cloud, which means you can access all your assets - including Adobe Stock - right inside the app and quickly put your ideas into production. And with Adobe CreativeSync, everything is connected across your desktop and mobile apps.
The right assets. Right away.
Creative Cloud Libraries store all your Looks, colors, images, metadata, and other assets, so they're instantly available across your desktop and mobile devices.
Adobe Stock built right in.
Spend less time searching and more time designing with 55 million royalty-free images, graphics, and videos inside your apps. The new Adobe Stock Premium collection offers curated images from some of the world's leading creatives.
What's New in After Effects CC (2015.3):
Smoother playback experience
A new audio and video preview architecture lets you play back cached frames in real time with synced audio.
Faster app performance
Move faster when working in the Compositions panel or scrubbing through the timeline.
Accelerated effects
Render faster using GPU-accelerated effects such as Gaussian Blur and Lumetri Color.
Get creative with color
Isolate and adjust colors, balance whites, and make subtle shade adjustments with enhanced Lumetri Color tools. Create and apply new preset SpeedLooks in a single click.


Simplified Adobe Character Animator
Quickly tag puppet layers and record multiple takes of a character's movement. Export faster with new Dynamic Link to Adobe Media Encoder. Control how each child moves with its parent using new puppet attachments.

Motion Trigger and Auto Blink behaviors
Use Character Animator to drag your characters across the screen and have them automatically animate according to their movements.

Faster importing
Import image sequences up to 10x faster over a local network or when using shared storage.

Improved Live 3D Pipeline
Export animated 3D text and shape layers to Cinema 4D for a more efficient workflow. Customize your elements and see them update instantly via Cineware.

Better collaboration with libraries
Control assets in read-only Creative Cloud Libraries so they can be used by team members but not changed or deleted.

Updated Libraries panel
Find the right content faster with a larger Libraries panel and filtered search of Adobe Stock, as well as new icons that make it easy to identify licensed Adobe Stock assets. See the length and format of each video in your libraries and get links to video previews.

And so much more
Also includes: Ability to composite with native 8K and 6K footage, encoding with custom render settings, swiping across open panels with the Hand tool, and more.

System Requirements: Mac OS X versions 10.9, 10.10, or 10.11
Home Page -
http://www.adobe.com


كود:
http://rapidgator.net/file/84656b61c975ee87ce38dcb89d7daa85/Adobe.After.Effects.CC.2015.3.v13.8.0.Mac.OS.X.part1.rar.html
http://rapidgator.net/file/36b32f80516452e686c727c8ec63106d/Adobe.After.Effects.CC.2015.3.v13.8.0.Mac.OS.X.part2.rar.html
http://rapidgator.net/file/ec4961b9df681ea699a3337c27776a41/Adobe.After.Effects.CC.2015.3.v13.8.0.Mac.OS.X.part3.rar.html
http://rapidgator.net/file/ce0a492dd9efbd43129ebf7fc4f417bf/Adobe.After.Effects.CC.2015.3.v13.8.0.Mac.OS.X.part4.rar.html
http://rapidgator.net/file/1012fcf3c39762fe57c5c2ff8b7a3160/Adobe.After.Effects.CC.2015.3.v13.8.0.Mac.OS.X.part5.rar.html
http://rapidgator.net/file/b1df2382cf91d0039c53448540e7d708/Adobe.After.Effects.CC.2015.3.v13.8.0.Mac.OS.X.part6.rar.html