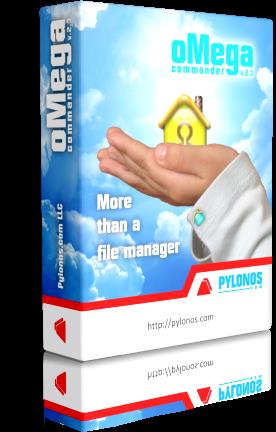 Portable oMega Commander 2.3.14 Build 4267
Portable oMega Commander 2.3.14 Build 4267|Packed in VMware ThinApp|Windows(x86/x64)|rar|33.2 mb
oMega Commander is a modern file manager that bundles a wide set of both basic and advanced file and folder managing functions with quick access to Operation System applications, controls and popular internet resources.
Attention!
Dear users! We do not forget about our rights holders!
All portable assembly, designed exclusively for the promotion of the software and can be used for informational purposes only!
After testing the program and decide on the usefulness and necessity of you, this software - you are required! remove the assembly and turn to the developer, to purchase a license for a full version. Good luck!
Work on Windows 10 is POSSIBLE, BUT NOT GUARANTEED!
Release Notes
Everything is intuitive and highly customizable. The classical split-panel layout is enriched with a number of visual innovations. Learning the new features and customization is easy thanks to animated tooltips and pointers, search-enabled Settings dialog, detailed embedded and online help system. File operations have been optimized for speed and accompanied with performance details. Viewing and editing of many file types can be done right inside the Commander. The ultimate goal of oMega Commander is for it to be your main control room of your personal computer, and to help you be more focused and productive with your own great projects.
Customization of oMega Commander begins during installation with selection of desired color scheme, font sizes, spacing, highlighting, protection, information detailing, menu styling. Customization during use of the application allows you creating your own ribbons or menus, organize favorite folders and applications, quickly change arrangement or presentation of files and folders, get access to more details, or free space for more visible items. There are a number of hot keys for the most frequent operations. Many hot keys are already familiar to you.
As any classical file manager, oMega Commander lets you easily handle files and folders, create new directories, move, copy or delete items. You may view the files as adjustable in size thumbnails, as detailed lists or both. You can switch between the modes with a simple hotkey press or mouse click. oMega can reliably handle network and virtual drives.
Big attention in oMega Commander has been given to natural handling of archives. You can compress, delete, split or merge files. The archive function automates and adds new features that are not available in the default Explorer or other programs. The usefulness of oMega Commander can be extended with plugins and linking to other applications.
The powerful file search function allows you to filter out unwanted results on the go, search in encrypted archives and much more. You can use Quick Search, Folder Tabs, Hot List, Folders History, Recent Files, Select Differences along with many keyboard shortcuts to quickly find, organize and synchronize files in different folders.

oMega Commander features a series of shortcuts to system functions, like Control Panel, Admin Tools, Network Connections, Registry Editor and more. They are available within a single mouse click. Similarly a multitude of shortcuts to popular websites are there: antiviruses, file hosting, music, images, social networks, etc.

Release New

Whats New: official site no says about updates

Homepage
Homepage
System Requirements
- Restrictions: It does not correspond to the tablet mode.
- CPU: Intel® Pentium 4 or later / AMD Athlon 64 or later (900 MHz or greater)
- (64bit support recommended)
- Memory: 4GB or more (Recommend 8GB or more)
- HDD: 10GB or more of free disk space
- Display: XGA (1,024x768), Full Color (24 bit or higher), 16-bit display (32-bit recommended)
Windows XP, Windows Vista all SP, Windows 7, Work on Windows 10 is POSSIBLE, BUT NOT GUARANTEED!
Language Multilanguage(Russian English)

Download:Portable (Size:33.2 mb)


كود:
https://rapidgator.net/file/062b3f5d915fa6375c1dface9f266149/oMCom23.rar.html