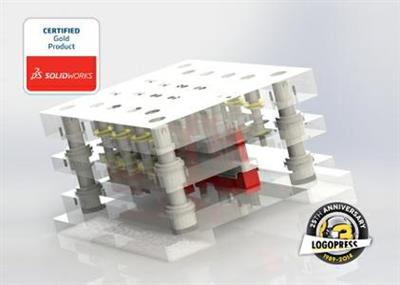 Logopress3 2016 SP0.5 | 341.8 mb
Logopress Corp., the developer of Logopress3 Gold Certified Partner Product for SolidWorks, along with its North American distributor and technical center, Accurate Die Design, Inc., has released update of Logopress3 2016, is recognized as the easiest to use 3D die design software available, while still providing all the powerful features and functionality needed to produce the most complex die designs.
Logopress3 has flawless integration with SolidWorks, with a simple and straightforward interface, which means a shorter learning curve. Logopress3 was the first product in the world to receive SolidWorks Gold Certification without requiring any changes whatsoever.
Logopress3 is currently used in over 30 countries around the world. The work can be started from a SolidWorks native part or, more commonly, from an imported part from another cad system. The entire process will be sped up thanks to the dedicated Logopress3 functions and automation
In only a few mouse clicks you can unfold your part and then model the intermediate stages that will allow defining the process that will become your strip layout. This can be done from a native SolidWorks model or from an imported model from any other cad system, without preparing it in any specific way.
The K-Factors for each individual bend can be automatically calculated by Logopress3 and the unfolding/unbending features can very easily be edited. This way, you can switch from a full unbending to a partial unbending. You can change the partial unbending angle value, you can manage the spring back options, the bend allowance, etc.
LOGOPRESS Cor.
For over 20 years Logopress' only business has been the development of die design software for the Tool & Die Industry as well as Flattening and Blank prediction software for many kinds of parts. Up until 2002 we provided 2D software solutions in France. In 2000, after 3 years of research and development in 3D technology, we decided to also develop 3D parametric solutions and to expand our business worldwide.
About Accurate Die Design, Inc.


Accurate Die Design, Inc. was founded in 2001 by Raymond J. Proeber. By that time, Mr. Proeber had been working in the tool and die and metal stamping industries for over 23 years. 15 years were spent on the bench as a tool and die maker, during which plenty of time was also spent in the evenings doing die design. Another 8 years were spent in management serving as tool department manager and later as vice president of a Milwaukee area metal stamper.

About Dassault Systemes SolidWorks Corp.

Dassault Systemes SolidWorks Corp., a Dassault Systemes S.A. subsidiary, is a world leader in 3D solutions that help millions of engineers and designers succeed through innovation. Our products deliver an intuitive experience in product design, simulation, publishing, data management, and environmental impact assessment.

Name: Logopress3
Version: (64bit) 2016 SP0.5
Interface: multilanguage
OS: Windows Seven / 8
System Requirements: (64bit) SolidWorks 2014 SP5, 2015 SP5, 2016 SP3
Size: 341.8 mb


كود:
http://rapidgator.net/file/f1ab9f47567a0ed3ebaa609ce8c15ff0/1rm41.Logopress3.2016.SP0.5.rar.html